The Delegation of German Industry and Commerce for Eastern Africa started implementing the dual vocational training system, based on the very successful German system, in Kenya in 2018. After both the Delegation and the curriculum had been accredited by the Kenya National Qualifications Authority (KNQA) and the Technical and Vocational Education and Training Authority (TVETA), the first training in the hospitality sector started in February 2019 in Nairobi.
After two and a half years of training, the first trainees passed their chef's examination on 27 September 2021 and were happy to receive their German certificate, which is as a Diploma in Kenya and corresponds to level 6.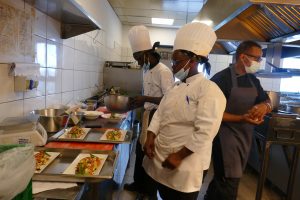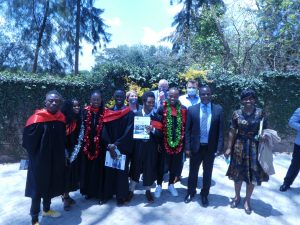 In the dual training system, about 70 percent of the training content is of a practical nature and is taught directly at the workplace, where the trainees go through all the stations that an excellent chef needs for a successful career. This kind of practical training can only work if the trainers have the necessary pedagogical and didactic knowledge, therefore, the Delegation of German Industry and Commerce for Eastern Africa offered and conducted the necessary Training of Trainer courses to the in company trainers to ensure an effective transfer of skillsets and knowledge. As theory is paramount to the success of these courses, the Delegation also found an excellent partner school, the Kibondeni College of Catering and Hospitality Management, that understood the advantages of this training system and agreed to provide the 30 percent theoretical training.
This type of training makes the profession more attractive to talented young people and thus increases the quality of every restaurant kitchen.
The first participating training companies were Trademark Hotel Nairobi, InterContinental Hotel Nairobi and the German School Nairobi. When Intercontinental Hotel had to close in 2020, the Trademark Hotel gracefully took over their trainees.
In October 2021, the second dual training course with 12 trainees started in Nairobi. The following training companies were added: Tribe Hotel Nairobi, Mövenpick Residences Nairobi, LSG Sky Chefs Kenya, Park Inn By Radisson Nairobi Westlands, Nairobi Street Kitchen.
On 10th October 2021, the Delegation of German Industry and Commerce for Eastern Africa officially launched the first dual training in Diani and signed a Memorandum of Understanding MoU with the Kenyan Methodist University (KeMU) which is the vocational school partner there. Training companies in Diani are Diani Sea Resort, Diani Sea Lodge, Leopard Beach Resort & Spa. The Diani program was officially launched with a ceremony on 10 December 2021.
Any Hotels or restaurants who would like to learn more about the program, are welcome to visit the project website or contact us via: bruno.backes@kenya-ahk.co.ke or kevin.rotich@kenya ahk.co.ke