A casino theme party is a lot of fun and has more advantages than you might imagine. It's a fantastic option for charity fundraisers, bachelor parties, birthday parties with themes, and bridal showers. You can recreate the traditional casino ambience and invite everyone over for an evening of gaming to celebrate a particular occasion or raise money for a worthwhile cause.
Check out some of these party suggestions and expert advice for organizing a fantastic casino party when you're ready to organize the ideal Vegas-style event.
Create a festive atmosphere.
The first step in throwing a great casino party is to create a festive atmosphere. In order to create a festive atmosphere, first, you'll need to choose the right location. A casino party can be held in a home, but it may be more comfortable and provide more space for guests to spread out if it is held in a rented hall or a bar. Then, decorate the space to look like a casino. Use poker chips, playing cards, and other casino props to create an authentic atmosphere.
There are probably a few colours that come to mind when you think about casinos. When using the traditional black, red, and white colour combination, don't be afraid to go all out. To balance things out and freshen up the area, use lots of green (it is, after all, the colour of money). Green looks fantastic on tablecloths, balloons, and confetti. You can also play music that's reminiscent of a casino, such as jazz or blues.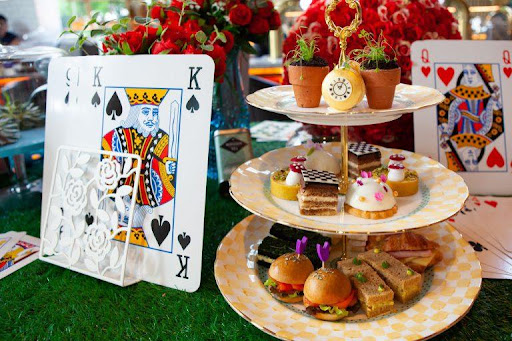 Serve casino-themed snacks and drinks.
Another way to create a festive atmosphere is by serving casino-themed snacks and drinks. Casino party food can be as simple or as elaborate as you like. Try serving buffet-style food so that guests can help themselves. 
For snacks, you can serve classic casino snacks such as popcorn, pretzels, and candy. Simple snacks like cheese and crackers, finger foods, and savoury classics like mini tarts with cream cheese and salmon are also good choices.
Even if you decide against serving themed appetizers, your dessert table is the ideal spot to experiment with your casino theme. To give your treats some visual appeal, make your own playing card cupcake toppers. Make dominoes out of brownies with icing, and poker chips out of filled cookies. 
For drinks, you can serve cocktails that are popular at casinos, such as vodka martinis and hurricane cocktails.
Organize casino games
The best part of a casino party is getting to play casino games! Set up a variety of games for your visitors to enjoy. This can be as simple as a few dice and card games, or you can set up a full-blown casino with casino tables and slot machines. Classic casino games like blackjack, roulette, and baccarat are so popular that people choose online casinos in Kenya with free bonuses to register and have fun.
However, you should also include some other games as well, like slot games. Nothing says Vegas more than a set of colourful slot machines. Tabletop slot machines are the ideal way to add fun to your party. But, if you don't want to bring in full-size machines, there is another option. You can set up computers or laptops and play online slot games available on Mozzartbet casino. Whichever option you go for, the important thing is that the guests will have fun.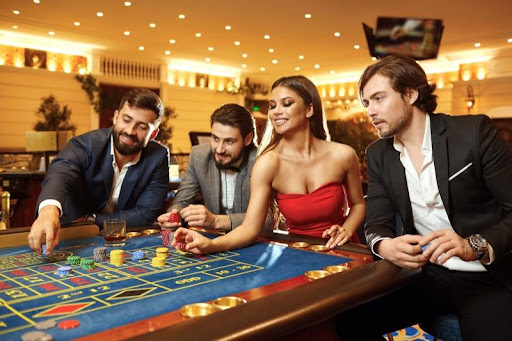 Dress up
Your casino party is the perfect excuse for your guests to dress up and feel fancy. Think swanky gowns, black ties, and suits. In order to give your visitors enough time to find the ideal clothing, mention your dress code when sending your digital invitations.
As the organizer of this party, opt for a glamorous look. A little black dress or a sparkling sequin number will make you feel like a high roller. If you are feeling more adventurous, try a bold colour or a fun print. Accessorize with plenty of bling. Think rhinestones, crystals, and gold accents. statement necklaces, bracelets, and earrings will help you stand out in the crowd. Wear your hair up in a high bun or sleek ponytail. This will show off your glamorous accessories and keep your hair out of your face. You will be on your feet all night, so choose a pair of shoes that you can walk in easily. Sandals, flats, or pumps are all good options.
And finally, don't forget to pack your poker face! Even if you are not a big gambler, you can still have a good time by playing party games and enjoying the company of your friends.
Have fun
The most important thing to remember when throwing a casino party is to have fun! Be sure to dress up in costumes that evoke the spirit of a casino, and let loose and enjoy yourself.
 If you're looking to throw a casino-themed party that will have your guests feeling like they're on the Vegas strip, follow these tips! Make sure to have plenty of casino games like blackjack, poker, and roulette to keep your guests entertained, as well as drinks and appetizers to fuel their fun. Be sure to deck out your party space with all the right casino decorations, and don't forget to dress the part yourself! With these tips, you're sure to throw the ultimate casino-themed party that your guests will love.