Luxury Champagne House Moët & Chandon hosted a champagne sundowner at the Tamarind Dawa Terrace in Mombasa.
The event aimed at creating unforgettable experiences, celebrating success and life's most memorable moments. Friends, key partners, and media were invited to a special champagne tasting where they got immersed in the luxury world of Moet and Chandon.
"Around the globe, the very words "Moët & Chandon" are synonymous with the most venerable of traditions and modern pleasures, celebrating life's most memorable and triumphant moments. As we celebrate these moments, we are pleased to celebrate with Moet & Chandon," said Mr. Helaine.
Moët & Chandon reflects the diversity and complementarity of the three main grape varieties of the champagne region: the body of Pinot Noir, the suppleness of Meunier, and the finesse of Chardonnay. During the event, the three expressions of Moët & Chandon were paired differently; the Moet Imperial was paired with the Fresh oysters, Smoked salmon roulade, and Wonton tuna tartare, the Moët Rosé was paired with the Singapore prawns summer rolls, Crunchy veg roll, Crab, avocado fiesta. Moët Rosé was also paired with Ginger crab cigars, Coconut-crusted prawns with a mango mayo. For dessert, guests had assorted macarons, toffee truffles, brûlée cheesecake, kiwi and berry tartlets, and vanilla ice cream, which was paired with the Moet Nectar Imperial.
He further added that "After what has been a challenging year, despite the uncertainties we face, we can and should still toast to personal moments that matter and create memories that last a lifetime."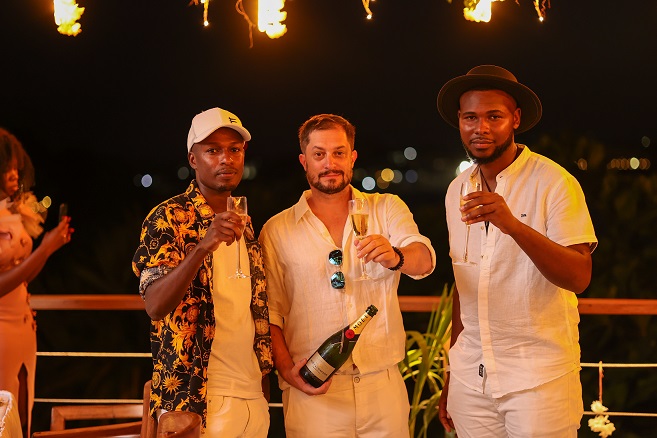 As we fast approach the end of the year and the promise of the festive season awaits us, Moët & Chandon fans are invited to join the celebrations, whether at home or intimate gatherings with loved ones. After all, if there's one thing that reminds one of celebration, it has to be the popping of a cork.