The weekend is here and the Yummy team is ready to help you navigate it. Grab your kids, your dancing shoes and your friends for all these weekend activities.
High Tide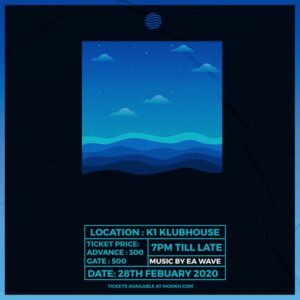 Prepare for a fun night with great music from EA Wave. The group consists of artists, producers and DJs and they'll be delivering on the best fusion of contemporary and traditional music.
When: 28th February
Where: K1 Klubhouse
---
Jah9 Live in Kenya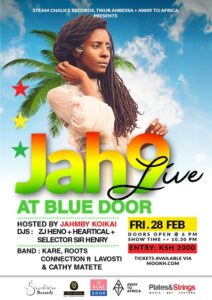 It's an exciting weekend for reggae artists as Jah9 will be performing. Set to release her 3rd studio album, it will be a night of great musical selection. Media personality Jahmby Koikai will be hosting.
When: 28th February
Where: Blue Door Lounge
---
Samantha's Bridal Wedding Fair
Brides-to-be have something wonderful to look forward to this weekend. Samantha's Bridal is back offering the best in beauty, fashion and style. This 3-day affair will feature the most dynamic industry players in the wedding, beauty, honeymoon, Kenyan fashion sector.
When: 28th February- 1st March
Where: Sarit Centre
---
Adrenalin Nights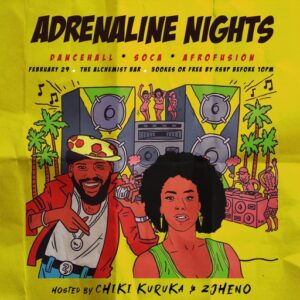 It doesn't get any better than mashing up Afro-fusion and Caribbean feels over the weekend. Hosted by Chiki Kuruka and ZJ Heno, it'll be a night of freedom, dancehall, soca and Afro music.
When: 29th February
Where: The Alchemist
---
Muze Opening Party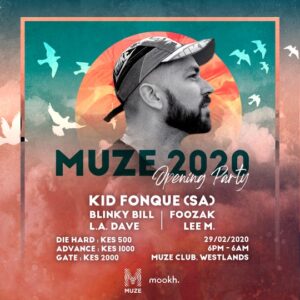 Bid the month goodbye with eclectic music and an awesome crowd at Muze Club this weekend. South African legend Kid Fonque will be setting the club on cloud nine with catchy electronic music. It gets even better as the likes of Blinky Bill and Foozak will be headlining the event.
When: 29th February
Where: Muze Club
---
Pre-loved Baby and Toddler Goods Market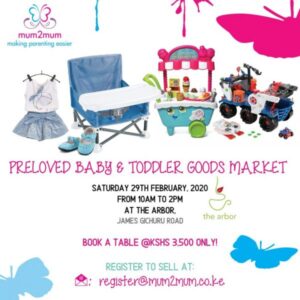 Organized by Mum2Mum platform, this goods market is a chance for mums to meet other mums, share experiences, buy bargains and support other mompreneurs. Mum2Mum also supports charities involving young children and mums.
When: 29th February
Where: The Arbor Place
---
Zen Kids Cooking Club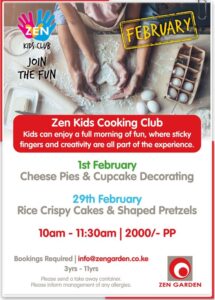 Here's a weekend event that kids can absolutely look forward to. As the month comes to a close, let your young ones learn how to make rice crispy cakes and shaped pretzels in a fun and secure environment and keep them engaged. Remember to book in advance.
When: 29th February
Where: Zen Garden restaurant
---
254 x 4 Off-Road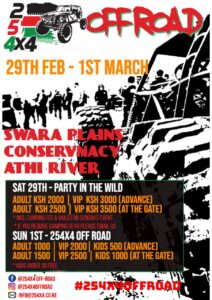 Calling the attention of all thrill-seekers! At this event, attendees will attempt a timed course on colossus off-road challenges. You're assured of not only food and drinks but a good time as well. Are you game? Get your camping gear ready, rally up your friends and let's see you there!
When: 29th February-1st March
Where: Swara Plains Conservancy