The weekend is here and the Yummy Team is ready to help you navigate it. Grab your kids, your dancing shoes and your friends for all these weekend activities.  
Papshops  Pop-up Market 4th Edition
This pop-up enables entrepreneurs to access markets easily. They host monthly events where we bring together brands and organization from all industry. The aim is to see local business growth to contribute to the economy and also create sustainable African business. They host incredible brands including but not limited to fashion, accessories, home decor, foodies, natural skincare and hair products. Kids activities will be available.
When: August 31st-1st September 2019 
Where: Under the Radar Restaurant 
---
The Savannah Space Street Fair II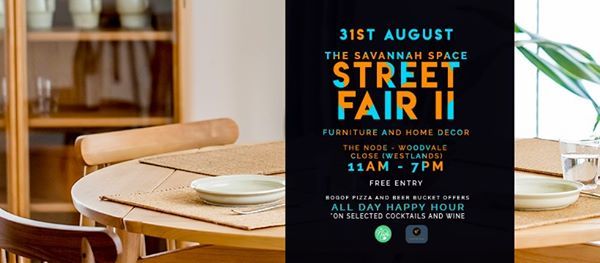 It's time again for fun, food and furniture! Explore up to 35 vendors selling furniture and home decor items made in Kenya. Free entry for all.
When: August 31st 2019 
Where: The Node 
---
The Nairobi Auto Show
Experience East Africa's most unique automotive event. Go and explore a thrilling collection of the latest supercars, motorbikes, technology, and automotive manufacturers. There'll be live music, amazing food, and outdoor activities, so there's something for everyone!
When: August 31st-September 1st 2019 
Where: The Waterfront Karen 
---
ReFushe Chair Expo
If you're looking to refurbish your living room or house with amazing decor, this should be your first stop this weekend. With exquisite chairs with a flair for African design, your space will definitely stand out.
When: August 31st 2019 
Where: Tribe Hotel 
---
Africa Book Review Session
Another awesome event for your kids today! There will be reading, book reviews, colouring, spelling bee, trivia and a lot more for the little ones. Let's not forget the mesmerizing museum tour.
When: August 31st 2019
Where: Nairobi Railways Museum
---
Thrift Social: Made in Kenya Edition
Guess who'll be performing again in Kenya! The incredible Sho Majodzi! Along with the exploration of art, music and fashion, this is one event not to miss as you usher in the weekend.
When: September 1st 2019
Where: Delta Towers
---
Family Fun Day
It's all the fun you've come to expect the first Sunday of the month. Are you ready for another Sunday of magic, puppets, games and face painting? What more could you ask for? Your family will definitely have a good time. Don't miss out.
When: September 1st 2019 
Where: Leleshwa Getaway 
---
Gondwana Presents Da Capo
In the spirit of coming together, this event is bringing you some of the continent's finest African Electronic Music on a terrace that overlooks one of the most iconic national parks in the world. For our seventh edition this year, they'll be welcoming special guest Da Capo (Soulistic Music) from Polokwane, Limpopo, South Africa who will play alongside SURAJ, EUGGY, Dylan-S & Himmy K.
When: September 1st 2019 
Where: Captain's Terrace Restaurant 
---
Pop-up and Chill Handmaker's Market
Go experience some of East Africa's most talented designers, creators, makers and growers. You will find the best in locally handmade, homemade and homegrown goodies. There will be a crafty corner for the kids as well as a selection of handmade clothing, leather goods, jewellery, furniture, home decor, prints, apothecary goods, healthy food, baked goods and yummy cocktails among other drinks.
When: September 1st 2019      Where: Shamba Café
---
For more updates on the best restaurants around, recipes, reviews, nightlife guides and more, follow Yummy Magazine, online and in print!