Mixologists are getting the recognition they deserve. One of Nairobi's leading mixologists is Kelvin Mwaniki aka Kev the Mixologist, who delivers nothing but tasty and savoury cocktails.  And he's not just any mixologist, he's a jack of all trades who understands his drinks, having gotten an accolade for his skillful art of mixing.
Kelvin, fondly reffered to as Kev the Mixologist juggles different hats as a barista, sommelier, bar consultant and brand influencer.
We caught up with to talk drinks, tips and made him reveal his secret hangover cure. You'll love it!
What led you to become a mixologist and where did you learn the craft? 
Well, in 2014 I was a barista at a café in Mombasa and right after the World Class Finals in Scotland I started gaining interest in bartending. The experience was  cutting edge and I even started dreaming of myself at the finals. That's when I thought of engaging myself into the craft, doing research, explorations, a little home bartending  etc.
Within a span of three months only I was able to quit my job and initiate myself into freelance mixology which really marketed me as a brand at the coastal region.
What are some moments that you're truly proud of in your career as a mixologist?  
This one right here!!Being interviewed for this particular magazine has made me proud of myself entirely.
What do you enjoy the most about being a mixologist? 
I really enjoy engaging with my guest , teaching them how they can make some of their favourite drinks at home when they are not up for an evening out and basically, meeting new people.

What's the most challenging part of your job? 
Not being able to please my consumer.
What's the most important skill a mixologist should have?  
Mastering the art of consistency.
What are some ingredients/elements that can't miss in your cocktails?  
Organic sugar, you can convert sugar and use it in many different ways when making cocktails.

What accolades have you gotten in your time as a mixologist?  
I scooped up an award last year for a drinks vendor of the year category at the Kenya Wedding Awards.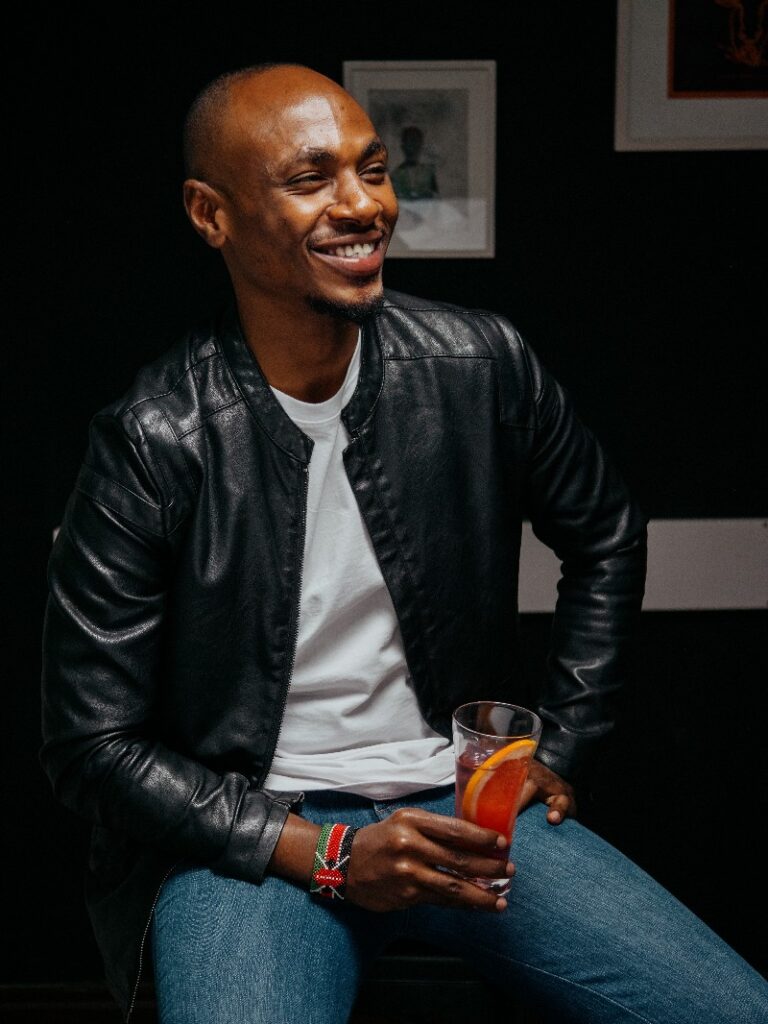 What's your favourite cocktail? 
My favourite cocktail is the one am making at that particular moment, I try not to be biased to my craft's elements.

What's your go-to base spirit for making a cocktail? 
GIN!!!! Honestly gin has got different facets that when you add a few tweaks on , you end up creating something magical.

What do you like doing on your night off and what are you sipping? 
I like doing research on nutrition and few elements that would assist in cultivating my craft boldly. Mostly I do negroni on my night off.

What's the no.1 tip you have for people mixing drinks at home?

Learn the classics!!! If you can make Negroni, you can riff on a Boulevardier. Once you've mastered the Dawa, have some fun at the coast on your way to Caipirinha.

Cocktails exist in family trees. Once you are comfortable the basics of each category the world is your oyster!

Do you believe in hangover cures? What's yours?  
I do believe in hangover cures! Lately , I'm however, fascinated by a remedy inspired by Chef Anibal Torres a celebrity culinarian who works for The Social House Nairobi, which is a marinade of lime juice, red snapper cubes, sweet corn, onions, coriander and a pinch of salt. This combination is a complete antidote , you should come give it a shot!!!
For delicious cocktails and the latest trends to be on, make sure to follow Kev The Mixologist on Instagram.